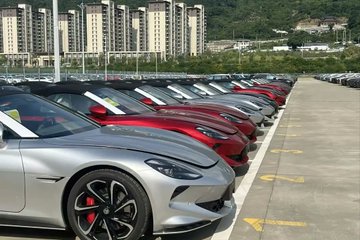 Dozens of MG Cyberster electric roadsters have been spotted at a manufacturing facility, indicating that mass production of this electric MG Cyberster convertible is now in progress. The recently released photos reveal a collection of completed Cybersters, representing MG's first all-new sports car in 30 years and its initial venture under Chinese ownership. These vehicles are undergoing inspections and preparations for transportation within a vast holding area at a yet undisclosed factory location.
Although the precise manufacturing site remains unspecified, it is presumed that the Cyberster will be assembled at SAIC's Ningde factory, where other MG models like the MG 4 electric hatch and MG 5 petrol sedan are currently produced. In these images, the cars are predominantly showcased in colors such as red, grey, and 'Bullet Silver.' Notably, two distinct wheel designs are visible, and the production model retains the eye-catching Lamborghini-style 'scissor' doors that were originally showcased.
The MG Cyberster was officially introduced at the 2023 Shanghai motor show and is anticipated to make its debut in the Chinese domestic market in early 2024. According to information shared in a social media post, numerous MG dealerships in China have already received cars for display purposes, suggesting that these vehicles may be destined for additional dealerships to facilitate the pre-sales process, set to commence on September 26, 2023, in China.
As for the Australian market, the MG Cyberster is confirmed to be available in showrooms by the end of the following year. While specific pricing and details for the Australian market have not yet been disclosed, it is possible that this model could become the first MG to be sold locally with a price tag exceeding $100,000.